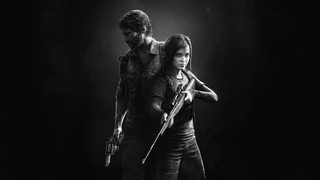 By the end of The Last of Us I had no idea how to feel. Hell—I started writing this in September, but I couldn't bring myself to finish it. I was frustrated and wanted to vent, but I also wanted to express myself with a clear, calm mind. So I'm back and ready to say why I can't stand the ending to this wonderful game.
---
I had my own thoughts on the game before playing it. I thought it looked fun, had solid graphics, and—like a lot of games that everyone seems to love—I thought it didn't deserve the hype it had generated. You're not supposed to do that, but I did. I still do that. Hi, I'm Patrick, and I am a human.
I'm not a cynic—maybe overly critical at worst—but I like to keep my expectations low. When I see something get hyped up, I have to make a decision:
"Hype Train has arrived! Next stop, that thing everybody likes right now! All aboard!"
I either jump on the Hype Train and start shoveling coal, or...
I adjust my tie and say, "No thanks. I've got better things to do."
It's the same reason I never saw a frame of Breaking Bad until the series was already over, and it's exactly why Bioshock Infinite is in my Steam library with zero hours played. It's a defensive measure, I suppose. If I blow something off with the assumption that it's "just okay," when I finally play—or watch—the thing, I'm either right on the money or wrong in the best way possible.
And I sure do love to be wrong.
After about an hour of The Last of Us, I knew I was. I was completely sucked in, and by the time Ellie was involved I didn't want to do anything else but play to see what happens. At first, a game about a middle-aged man guarding a 14 year old that's not his daughter sounds weird. Or it did. In my mind now, Joel and Ellie are one of gaming's greatest duos. The father-daughter chemistry is delightful, and it's hard not to care about the two. I was in love.
Then the end came...
**Spoilers About The Ending From Here on Out**
I hate to be that guy, but seriously, if you haven't finished the game and plan to: stop reading.
I don't want to harp on the ending too much. Everyone has covered both sides of how people feel about it pretty well for the most part. Kirk Hamilton wrote a great piece about the game's ending and why it doesn't need a sequel. I'm inclined to agree with him, but still, something about the ending doesn't sit well with me...