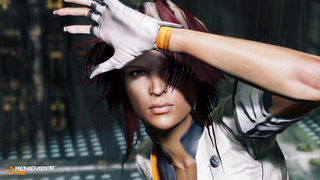 For all the games that were hyped up last year—many deservedly so—Remember Me is a game that flew somewhat under the radar, despite being a solid combat-focused game with a great story and setting.
During last year's Steam summer sale, I bought around 12 games—most for single-digit prices. The main exception was Remember Me, a $30 game I had heard almost nothing about but was too busy impulse buying to think about. It was a big gamble—especially despite it's mixed reviews—but it ended up being one of my favorite purchases from the sale.
What Was Actually Bad
I know it's weird to talk about the bad stuff first, but I think it's important in this case, because a) the focus of this review is the game's underrated nature, and b) I don't give a shit, I ain't no professional reviewer.
Much of what you read in reviews is true: the game consists mostly of combat and some platforming, the latter of which is excruciatingly boring. The game's camera is also one of the most frustrating I've ever seen, and the ending of the story wasn't very good—but everything else in between was.